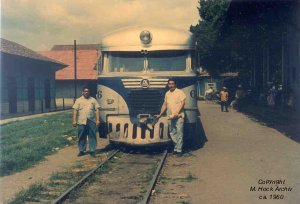 Autocarril Num. 6. en el estacion de Corinto
Foto y informacion por fahrplancenter.com
Corinto, Express 

autocarill

 Num. 6

, p

oco antes de la salida para Managua.  

A la izquierda el conductor y a la derecha el maquinista.


Detrás del auto

carril a

 la distancia 

se

 conduce hasta el puerto.

 

====
English
Motor -coach / Autocarril Num. 6. at
Corinto Station.
Photo and information from fahrplancenter.com.
Corinto , express autocarill No. 6, shortly before departing for Managua,
On the left the conductor and on the right the train driver.
Behind the motor coach the tracks lead to the harbor.